Former Tucson Sugar Skull and Arizona Rattler joins Tulsa.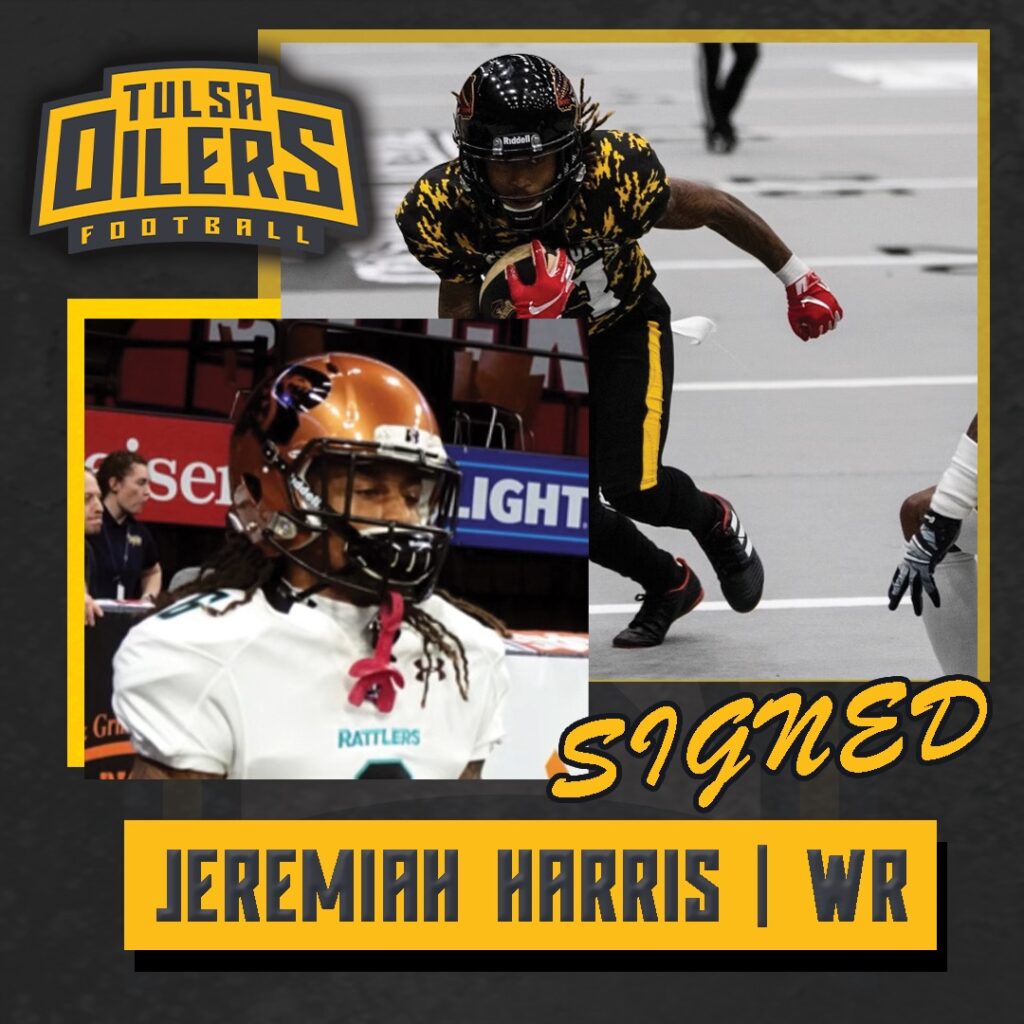 FOR IMMEDIATE RELEASE:
November 8, 2022
TULSA, Okla. – Tulsa Oilers Football, proud member of the IFL, announced on Tuesday the signing of wide receiver Jeremiah Harris.
Harris (25) hails from the Sunshine State, where he played his high school and college career.
The former Dr. Phillips High School Panther had a four-year career at Webber International University, where he played wide receiver and running back.
The WIU Warrior posted 74 receptions for 934 yards receiving (12.6 yards per reception) with a season-high 405 yards on 29 receptions (13.9 yards per reception) his senior season. Harris also rushed for 145 yards on 27 attempts (5.4 yards per rush) in his collegiate career. The multipurpose threat acquired 1,459 all-purpose yards, including special teams returns, finishing with six touchdown receptions.
The Orlando, FL native began his professional career in the IFL, signing with the Tuscon Sugar Skulls in 2019, putting up 163 yards receiving on just 13 receptions in three games (12.5 yards per reception).
The 5'8, 165 lbs wide receiver joined the Arizona Rattlers during the 2021 season, compiling 173 yards on 19 receptions (9.1 yards per reception) in eight games. Harris would add four touchdowns to his resume in 2021 with the Rattlers.
With this announcement, the Oilers announced roster now includes James Summers(QB), Deonte Cruse(OL/DL), Maliek Stephens(RB), Dominic Logan(OL/DL), Christopher Ivy(OL), Eric Sadler(DL), and Jeremiah Harris(WR).
The Oilers will begin their inaugural season in 2023.
Tulsa Oilers Football Season and Group Tickets are on sale now! Call the front office at 918-632-7825 or visit www.tulsaoilersfootball.com for more information.
Follow us on Twitter and Instagram, or "Like" us on Facebook for more information about Tulsa Indoor Football.