Former Rapid City Marshals QB Bobby Froehlich continues his career in Tulsa.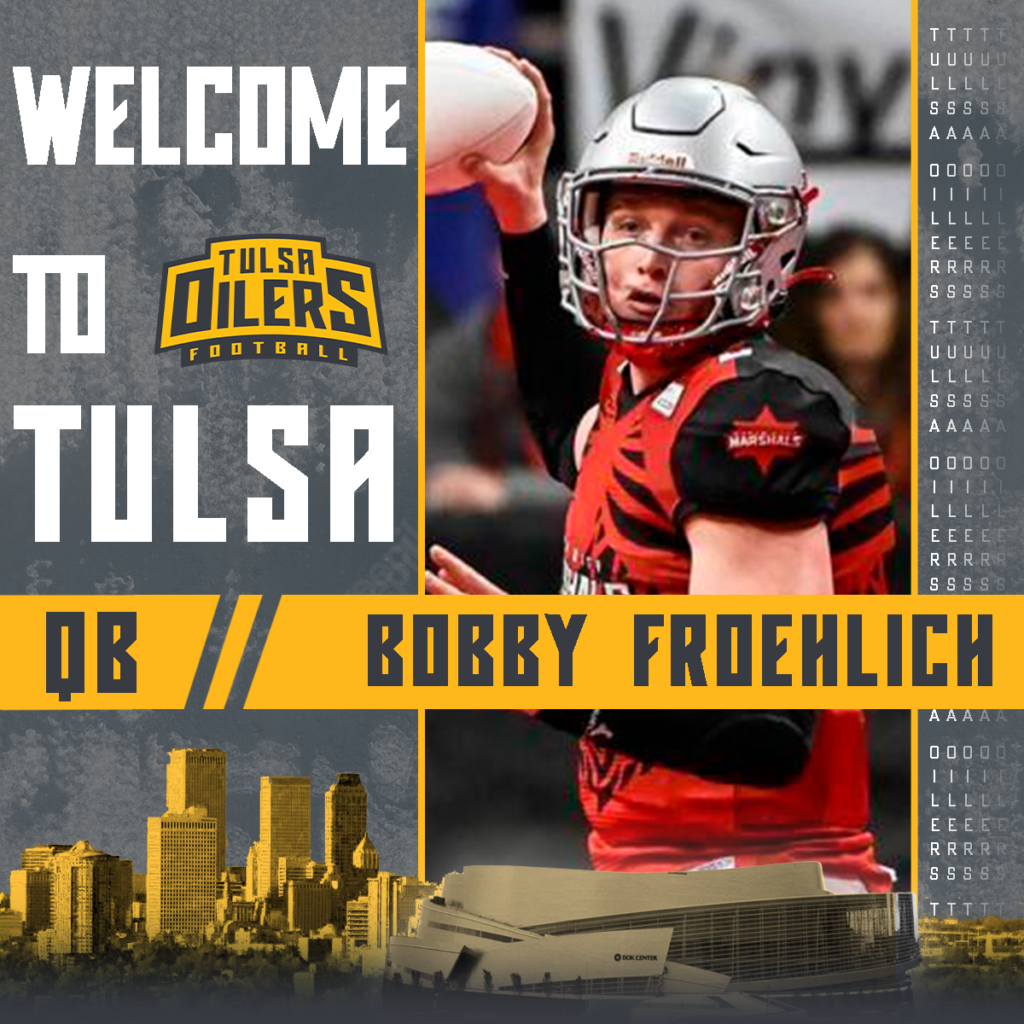 Tulsa, Okla. — Tulsa Oilers Football, proud member of the IFL, announced on Tuesday the addition of quarterback Bobby Froehlich.
Froehlich (24) steps into his role in Tulsa with prior experience in the CIF. The 6'5, 235 lbs. offensive leader played four games with the Rapid City Marshals in the 2021-22 season, recording a team-leading 10 passing touchdowns and three rushing scores, along with a 119.7 quarterback efficiency rating, also the highest on the squad.
"Bobby has an excellent release," said head coach Marvin Jones. "He is a big body that can make throws in all situations."
Prior to turning pro, the former Rapid City QB attended Wittenberg University, where he played three seasons and compiled 2,762 yards in 22 games, grabbing 19 touchdowns through the air and six on the ground. The North Coast Athletic Conference product finished his college career with a 138.0 quarterback efficiency rating.
With this announcement, the Oilers announced roster now includes James Summers(QB), Deonte Cruse(OL/DL), Maliek Stephens(RB), Dominic Logan(OL/DL), Christopher Ivy(OL), Eric Sadler(DL), Jeremiah Harris(WR), William Auwae(OL), Tre Harvey(LB), Jamon Langford(WR), Brandon Mitchell(OL), Kazon Edwards(LB), Tre King(RB), and Bobby Froehlich (QB).
The Oilers will begin their inaugural season in 2023.
Tulsa Oilers Football Season and Group Tickets are on sale now! Call the front office at 918-632-7825 or visit www.tulsaoilersfootball.com for more information.
Follow us on Twitter and Instagram, or "Like" us on Facebook for more information about Tulsa Indoor Football.