Big 12 Champion returns to his hometown to begin pro career.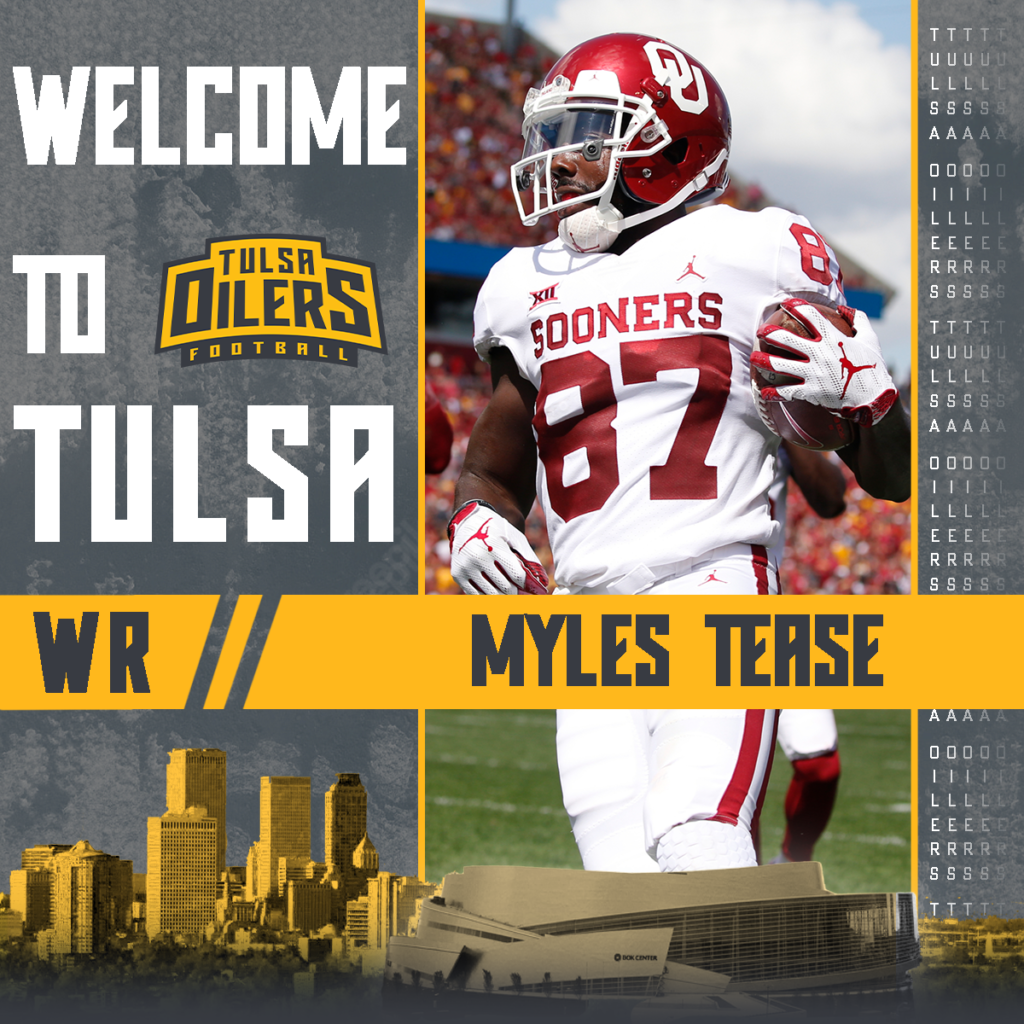 Tulsa, Okla. — Tulsa Oilers Football, proud member of the IFL, announced Monday the signing of former Booker T. Washington High School standout and University of Oklahoma wideout Myles Tease.
Tease (26) was a 2022 Tryout Camp participant with the Tulsa Oilers back on October 22.
Tease won two Big 12 Championships during his two seasons with the Oklahoma Sooners, alongside two Heisman Trophy winners, in 2017 with Baker Mayfield and in 2018 with Kyler Murray. The 5'10, 184 lbs. wide receiver collected 155 yards on 12 receptions for an average of 12.9 yards-per-catch during his time as a Sooner. The elusive slot receiver attended OU Pro Day in 2019 along with fellow wide receiver at the time and current Arizona Cardinal Marquise Brown.
"I like what Myles' style of game brings to this league," said head coach Marvin Jones. "It is important to have another local guy with the extra motivation to perform for these fans."
The former Sooner began his collegiate career at the University of Central Oklahoma, where he played two seasons. The UCO Broncho put up 161 yards of 13 receptions his freshman year before exploding in his sophomore campaign for 461 yards via 27 catches at a staggering 17.1 yards-per-grab.
The Tulsa, Oklahoma native played high school football at Booker T. Washington High School and was an All-District performer his senior year. The younger brother of the newest Oilers wide receiver, Micah Tease, plays for Booker T. Washington and has recently committed to play at Texas A&M.
With this announcement, the Oilers announced roster now includes James Summers(QB), Deonte Cruse(OL/DL), Maliek Stephens(RB), Dominic Logan(OL/DL), Christopher Ivy(OL), Eric Sadler(DL), Jeremiah Harris(WR), William Auwae(OL), Tre Harvey(LB), Jamon Langford(WR), Kazon Edwards(LB), Tre King(RB), Bobby Froehlich (QB), Ja'Davien Williams(DL), Joshua Robinson(RB), Tyler Jones(WR), and Myles Tease(WR).
The Oilers will begin their inaugural season in 2023.
Tulsa Oilers Football Season and Group Tickets are on sale now! Call the front office at 918-632-7825 or visit www.tulsaoilersfootball.com for more information.
Follow us on Twitter and Instagram, or "Like" us on Facebook for more information about Tulsa Indoor Football.