Former CIF wide receiver begins second stint under Marvin Jones.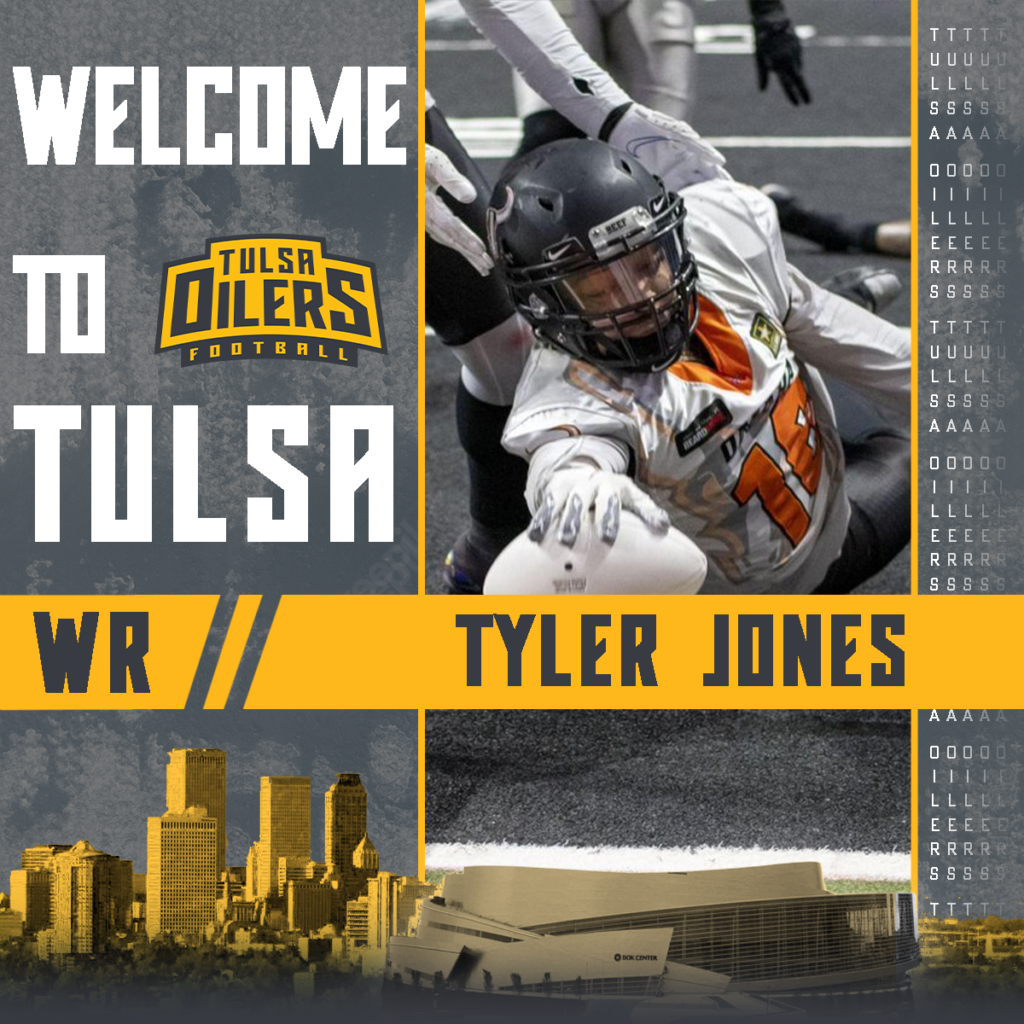 Tulsa, Okla. — Tulsa Oilers Football, proud member of the IFL, announced on Friday that Tyler Jones has signed with Tulsa.
Jones (28) reunites with head coach Marvin Jones after spending the past two seasons with the Omaha Beef of the CIF, winning a championship in 2021 while being selected as the Champions Bowl VI Player of the Game, putting up three touchdowns on 10 receptions for 79 yards in the biggest game of the year. During his Beef career, the 6'2, 210 lbs. receiver snared 103 receptions for 1,007 yards, averaging 9.7 yards per catch and tallying 22 scores. The St. Louis, Missouri native, led his team last year in receiving yards with 514.
"Tyler is an intelligent player that can help teach our younger guys," said head coach Jones. "He brings championship experience and helps create a winning culture in Tulsa."
The former Omaha wideout displayed his talents in college at the University of Central Missouri, playing three seasons. In 22 games, the former Mule had 35 receptions for 609 yards and two touchdowns, averaging 17.4 yards per catch.
With this announcement, the Oilers announced roster now includes James Summers(QB), Deonte Cruse(OL/DL), Maliek Stephens(RB), Dominic Logan(OL/DL), Christopher Ivy(OL), Eric Sadler(DL), Jeremiah Harris(WR), William Auwae(OL), Tre Harvey(LB), Jamon Langford(WR), Kazon Edwards(LB), Tre King(RB), Bobby Froehlich (QB), Ja'Davien Williams(DL), Joshua Robinson(RB), and Tyler Jones(WR).
The Oilers will begin their inaugural season in 2023.
Tulsa Oilers Football Season and Group Tickets are on sale now! Call the front office at 918-632-7825 or visit www.tulsaoilersfootball.com for more information.
Follow us on Twitter and Instagram, or "Like" us on Facebook for more information about Tulsa Indoor Football.